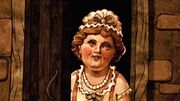 Ruth is a minor character in the series, The Marvelous Misadventures of Flapjack. She is voiced by June Foray.
Background
Ruth was a beautiful and much desired woman in her youth, and was asked by many eligible bachelors to marry them. She always baked pies for the "Stormalong Pie Eating Contest" until she got eaten by Bubbie (along with her pies and oven) by mistake.
She spent the years following her consumption baking the same pie over and over again to stay sane. A short time before her release from Bubbie she took up knitting, Jabbing her knitting needles into the whales insides when she wasn't using them.